Robot War 2: Official Announcement
OVERVIEW
In the first Robot War (released 2006),
Edgar
and his friends built a team of artificial telepathy-controlled robots to defeat his enemies. Now it is 4 years after the war. Much of the planet has recovered from the wicked
Dr. Edmund
's failed conspiracy to destroy civilization. And Edgar--now 22 years old--has left his hometown to rejoin family and friends in the a fast-paced city of Oceanside.
...........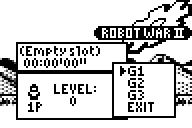 Left
- TI-83+/84+ titlescreen concept.
Right
- TI-82 titlescreen
STORY
Much has changed in 4 years. When Dr. Edmund's bases were destroyed, the artificial telepathy fuel "Chrysalene" leaked into the biosphere. As a result, almost 1 person in 800 has at least some mild psycho-kinetic (PK) ability. Due to Edgar's direct exposure, he's become an
ability shifter
--the versatile kind of PK (though not the strongest). Edgar arrives in Oceanside to learn his mentor,
Dr. Noah
has reinvented his research lab--the
Atlas Institute
-- into a sort of university hospital for the paranormal.
Noah reveals that Dr. Edmund was not alone in the Robot War. His military coup was backed by an advanced, forgotten civilization from the Frozen North. Although Edmund himself is presumed dead, it is believed this civilization is poised for a second invasion. All seemed be centered around Dr. Edmund's 5-year-old daughter
Clara
--who is omni-kinetic, and has the strongest abilities in the world.
Meanwhile, the military alliance:
JET
(
Joint Earth Tribunals
) is determined to prevent disaster. But no one knows if they also consider the Atlas Institute or Edgar and Clara themselves to be a threat. Or what measures they are willing to carry out.
Will history repeat itself? And can Edgar harness his skills before all hell breaks loose? Only time will tell.

HOW TO PLAY: Battles
All your enemies will start with 2, 3, 4 or 5
Hit Points (HP)
, which are shown as a tiny health bar to their right. Your attacks have a 1% to 99& chance of taking 1 of those points away. Whether your chance is good or bad depends on how powerful your character is compared to the enemy...
HP - Your Health Points are shown below Edgar's picture.
EP - Energy Points are like ammunition.
ATK - Attack ensures high hit likelihoods.
DEF - Defense counteracts your enemy's ATK.
SPE - Speed is how fast you can run.
Above - Edgar uses basic kicks and punches near the high-speed turnpike.
CHARACTER EVOLUTION: Choose your strength
There are at least five ways to boost and modify your character's qualities as you play...
1. Level up by gathering
musical notes
dropped by fallen enemies. Every level-up raises your stats (HP, EP, ATK, DEF, and SPE) by +1.
2. Buy equipment with the
coins
dropped by fallen enemies to raise your attributes by small quantities.
3. Eat
food
to level-up one of your stats faster than the others. It works a lot like real life...
Bread - x2 energy growth next level
Meat - x2 attack growth next level
Dairy - x2 defense growth next level
Fruit - x2 speed growth next level
4.
Explore the game
and unlock Edgar's unknown abilities. At the start, your only "move" is walking. Play on to learn "jump," "slash," and others. Eventually you can learn: fire, water, metal, wind, and earth.
5. Choose
your favorite color
at the start of a new game to determine Edgar's special attack.
Above - Edgar has unlocked "Hydrokinesis." Your enemies have abilities too!