In honor of the veterans who died for our country (United States), to start off the memorial day weekend, our family decided to clean out the garage yesterday.
Anyway, however that sentence relates to this topic I don't really know. But I did manage to (later) find four of my memory cards I had long forgotten about!
Shall I continue?...
______
....
______
...
Ok, I was thinking these might be useful to someone else, even though they are far too small for my uses.
I talked to my friends, family, ect. and no one I knew had any
real
use for them.
So I was thinking about the
nice people on Maxcoderz
. Why not give them to them?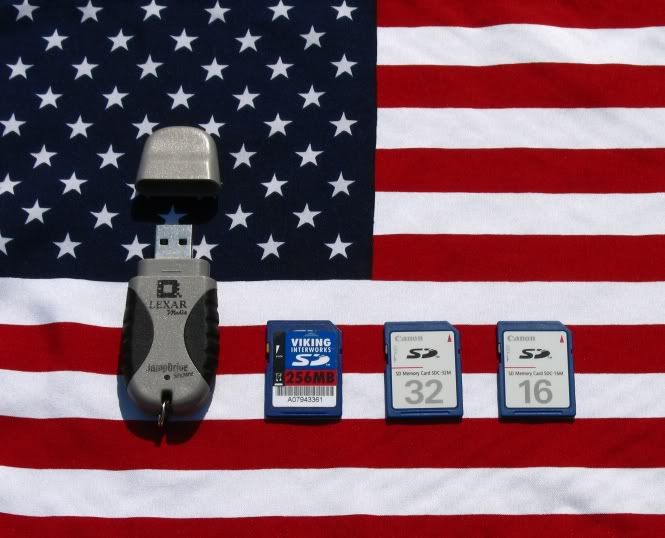 Rather than throwing these precious cards away, I figured it would be worth up to two dollars shipping send these cards to
someone who could use them. Yes Hop, I do have a
green
side to me, you can call me
Keep America Beautiful Man
for short.
Ok, here's the description of the cards starting from the left:
First is the
Secure Jump Drive
, which is a 128 MB flash drive, and has a special program that comes with it, allowing all your important
information to be ultra-super-protected. And unless you have the program on your computer, the special compartment doesn't show up
when you insert the card. Personally I never used it, but it's there. Complimentary key chain ring and cap included!
The rest are SD cards, and are useful for whatever you have that takes them. They might also be used as a flash drive for files, or in a
Camera for taking digital pictures.
The first is
256MB
, the second,
32MB
, and the third
16MB
Anyone who is interested please post here what you would do with them and the country you live in.
I haven't decided if I am willing to ship them overseas yet. does anyone know the general cost from say... the US to Netherlands?
If enough people post, a contest may be in order. ALL APLICANTS APPLY, although if shipping is too high,
they may be limited to continental US residents, that is yet to be decided.
BTW, who was it a while ago, who was asking for donations for a camera? does it use SD?
_________________
Homestar just earned .75 maxcoins for this post.